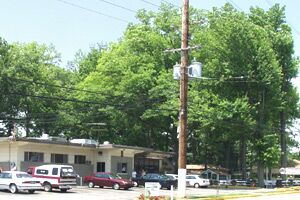 Mike Linnig's
The closest sports bar to Papa John is Tailgaters (located across the street): they have a great menu of food most fans love to eat on football weekends.
The best website for finding a place to eat is here: You should look in the Downtown and Airport/South sections for places closest to Papa John.
Downtown areas are best near 4th Street.
Three come recommended for originality: Makers Mark Bourbon House + Lounge , Red Star Tavern and Vincenzo's/150 S. 5th Street/Ph # 502-580-1350/Reservation Required. Of course, there are others like Hard Rock and TGIF.
| | |
| --- | --- |
| | |
| Red Star Tavern | Vincenzo's |
Another great area to check out if you have access to a vehicle: the 900 block of Baxter
Suggestions in the 900 block:
Wicks Pizza Parlor & Pub (Baxter) - decent bar - great pizza
O'Shea's (Baxter) – Irish Pub
Molly Malone's (Baxter) -Irish Pub pricier- nice outdoor area
Wet Willy (Baxter) nearly 100 beers on draft and a 6 foot long monitor lizard living underneath a reinforced glass floor.
Flannigan's Gourmet Pizza + Ale house (Baxter) - smaller place - very very popular - great food and big beer selection
Things to Do:
Distillery Tours:
Woodland Reserve (formerly Labrot & Graham Distillery)- 1 hour drive towards Lexington. Located in the beautiful horse country around Versailles!

Maker's Mark: 1 1/4 hour drive. Very Good tour

serves up good, cheap eats (speciality is fish/seafood) in a fabulous outdoor setting by the Ohio River.
Wild Turkey
: Less than an hour southeast, easy to find.

Wild Turkey Distillery
The Louisville Chamber of Commerce has a nice guide to give you more suggestions in Louisville.

Belle of Louisville Steamboat
GOLF:
Louisville Fan and Native Chris Lindy's Suggested Courses:
City of Louisville:
Right in the heart of Louisville, your best courses are Seneca, Charlie Vettiner, Indian Springs, and Quail Chase.

Seneca is an old track that is very challenging. It's a municipal course owned by the city and once held PGA tournaments. Hole #1 is considered by many to be one of the toughest in the area. It certainly makes for a unique start to your round of golf. This is also the most-played course in Louisville, so get your tee times early.

Vettiner (see Seneca link) is another muni, more challenging due to the fact that there are some wild holes on the course and a LOT of elevation changes but lacking in the history department. The tee shot on #9 (??) is probably the toughest in the city. OB on the right and junk on the left. Trees line both side of a very narrow fairway for what is an uphill tee shot. Hole #10 may actually be tougher than 9.

Indian Springs is probably a controversial choice and one that other Louisville golfers would disagree with me about. It and Quail Chase are neither one city owned, but people complain about the residential developments overhanging the golf course at Indian Springs. I agree that the houses impede if you are wild off the tee, but really they are nothing more than a bad backdrop for an otherwise GREAT golf course. The par 3's there are among the best collection of any Louisville public (#6 & #11 are the best) and there is plenty to challenge you throughout the round.

Indian Springs Golf Club
Quail Chase is also a public course in town, but not connected with the city parks. There are 3 9-hole courses at the facility, which is well-kept if nothing else. I am not personally a big fan of the place because it is much more expensive than Seneca or Vettiner and really doesn't offer anything those courses can't. The par-5 8th hole (East course) is a tricky one, where a lake guards the right side for the last half of the hole.
Greater Louisville Metro Area:
Outside of Louisville, I think there are more options and ones that honestly are better if you'd like to avoid the muni scene and get a little more for those extra dollars you will drop on non-city owned courses. Old Capital (Corydon, IN), Covered Bridge (Sellersburg, IN), Chariot Run (Laconia, IN), Nevel Meade (Prospect, KY), My Old Kentucky Home (Bardstown, KY), and Weissinger Hills (Shelbyville, KY) are all very good to great tracks with a variety of challenges to them.

Old Capital is a former private club in Corydon, right at 30-45 minutes from downtown Louisville in Corydon, IN. IMO the best-kept secret among Kentuckiana courses, this club was opened to the public and has been going through massive changes in the past 2-3 years. The finishing hole, a short par 4, is uphill most of the way with a green fronted by a man-made waterfall. Very neat way to come in from your round. Water comes into play a lot here and conditions are usually fantastic.

Old Capitol Golf Course

Covered Bridge is arguably the most well-known public course in the area, designed by US Open and Masters winner Fuzzy Zoeller. The unique aspect to this course is a shared green for 9 & 18, giving the course a bit of British feel to it. When the wind blows there, it certainly convinces you you're not in the states anymore. A lot of nice holes, but nothing that just overwhelms you in its beauty.
Covered Bridge Golf Course
If you're a gambler, Chariot Run may be the place for you to get in your 18 holes. It pushes the 45 minutes a little bit in that the course, owned by Caesars Indiana, is WAY past the casino itself. This is another course that I was not a huge fan of when I played it, but mostly because the greens were too hard and didn't receive shots well. It's a great layout, though, and would perhaps be right up there on my list with another chance at better conditions.

Nevel Meade is another course that I would rank in my personal Top 3, right behind Old Capital and maybe Covered Bridge, Chariot Run, or My Old KY Home. This is a links-style layout with awesome views and many elevation changes throughout the round. Hole #6 is a great little hole, with a small waterfall guardig the left side of the fairway and green. You could probably drive it if you're a big hitter, but you risk playing pinball on the rocky falls if you miss left.
My Old Kentucky Home is the best local state parks course, also about a 45-minute drive from Louisville, but actually not even in the Top 5 of all state parks courses. The other great thing about Kentucky golf is what the state does with its parks. Trying to encourage people to get away from the big cities and put money into the smaller KY communities, the government has built and remodeled several parks courses into championship-quality layouts. My Old KY Home is not one of the Signature Series (the REALLY nice ones), but it's still a fun course that is well-kept and reasonably priced. Hole #16 might be the most difficult par 3 in the entire area.

Finally, Weissinger Hills in Shelbyville. This is another course that not many people know about since it is away from the city and not high on the day trip list for most people. Situated on an old horse farm, the course winds through several patches of trees, old fields, and a bit of water during the round. There isn't anything particularly spectacular about the course, but 10 might impress you and the conditions are good.

For more information, you can always click the links for the courses that have websites or check out Golf Kentucky Links for their reviews. This is a nice site devoted to looking at ALL the KY courses as well as some of the more recognizable tracks just across the river.
Editor's Note: We thank Chris for his insights regarding golf in the Louisville area. Please note that he has an excellent web site devoted to University of Louisville athletics called Cardinal Empire. Please check it out.
I hope this helps. I'd like to thank Louisville fans Maize, Wilkie and Chris Wileywho helped with this guide. TexanMark
The opinions expressed in this guide are those of TexanMark. While every effort has been made to ensure all the information presented is accurate and current, it would be wise to verify things when possible. Please note that this guide is not endorsed by Scout.com, its site publishers, administrators and/or moderators.