West Virginia Tailgate/Visitors' Guide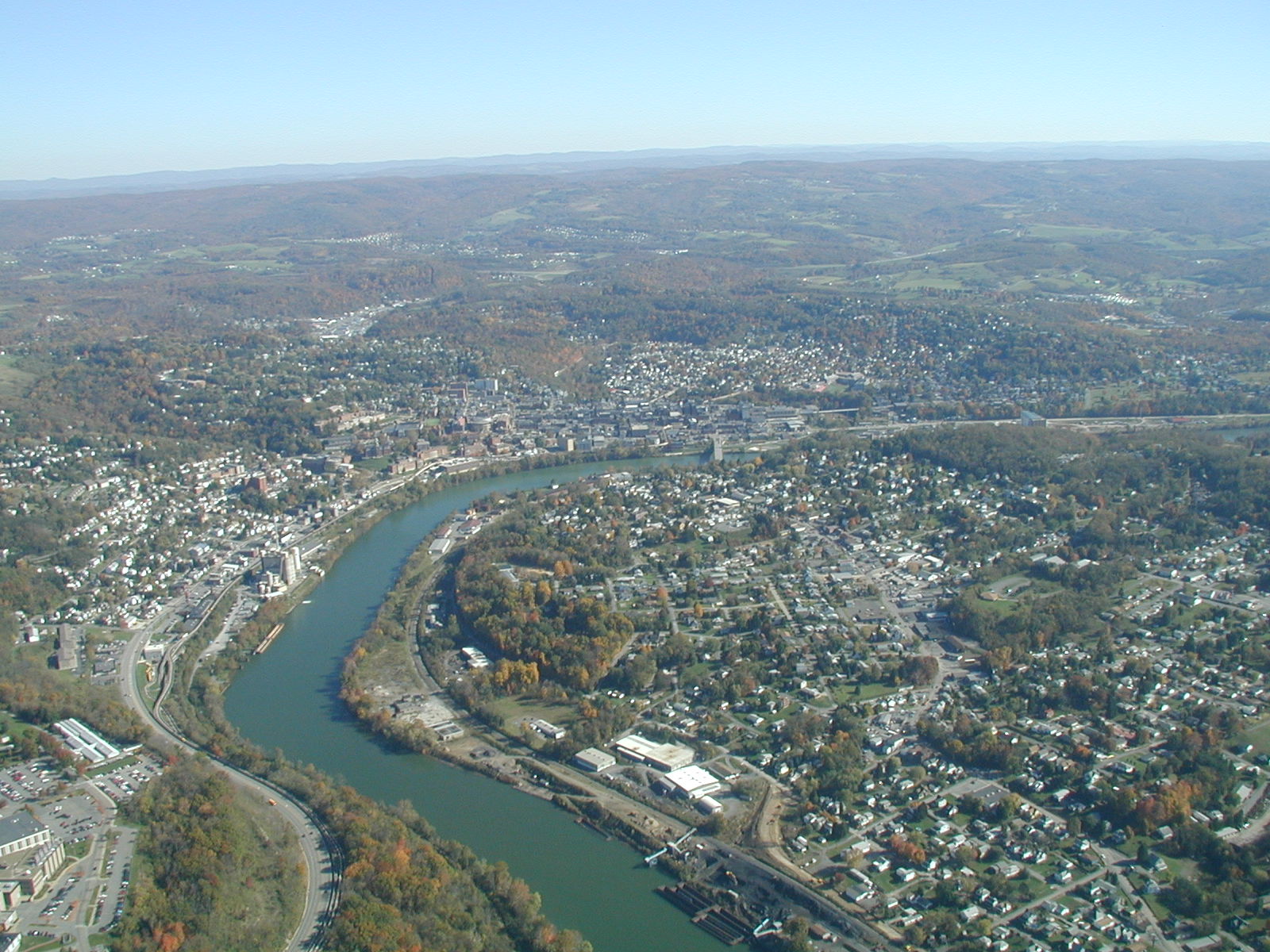 Morgantown (Photo - Morgantowns Dot Com & Sign Co.)
This is one of a series of tailgating guides for Big East football schools written by Syracuse fan and tailgate aficionado TexanMark. If you have any feedback or additional information you think belongs in this guide, please drop an email message to Mark by clicking here.
First Things First: GETTING THERE
If you're a Pitt fan, finding Morgantown is easy and fairly painless. For the rest of us it is much more involved. The airfares into Morgantown can be very reasonable or very expensive. Morgantown has scheduled service with USAir with daily flights to Washington D.C. and Pittsburgh on commuter aircraft. Probably the easiest way to fly there is to fly in and out of Pittsburgh International, rent a car and drive down from Pittsburgh.
For the rest of us, we drive from our homes. Here is a sample list of travel times by car: Pittsburgh 1 ¼ hrs, Washington DC 3.5 hrs, Cincinnati 5.5 hrs, Syracuse 7 hrs, Northern New Jersey 7 hrs.
This link has some good directions from the interstates. West Virginia offers a tremendous Football Game day environment. Since Morgantown is relatively small, the whole town is involved with the Mountaineers. It is very similar to how Blacksburg, VA takes to the Hokies.
From the Regional Research Institute: "WVU is easily Morgantown's leading employer. When school is in session, Morgantown's population jumps from 29,000 to 50,000. The city is located in the north central part of West Virginia, within 10 miles of the Pennsylvania border and 30 miles from Maryland. It stands near the corner of Interstates 68 and 79, but the more important intersection historically was the confluence of the Monongahela River and Decker's Creek."
Campus Info:
In order to gain an understanding of how Mountaineer Field sits in the Campus you must first become familiar with the two campuses. A good view of the two campuses and the unique Personal Rapid Transit (PRT).

Walnut Street PRT Monorail Station (Downtown Morgantown)
From the Regional Research Institute: "The university's downtown campus lies on the northern edge of the city's small central business district, and a more striking setting for a university is hard to imagine. Dating to 1870, WVU looks like the Ivy League.
Campus streets lead uphill from downtown to hills and more hills. (After four years at WVU you not only would have a bachelor's degree, but Olympic-class leg muscles as well.)
At the crest of one landscape-dominating mound is Woodburn Circle, comprising three of the university's oldest buildings, which stand like three distinguished professors posing for a yearbook photo, overlooking the city and the Monongahela Valley.
In the 1950s, WVU ran out of room to expand, and a second campus - the Evansdale Campus - was initiated three miles to the north. Unfortunately, the Ivy League architecture stayed downtown. The new campus buildings are more functional and, well, dull. Except for the coliseum, it is on a hilltop is visible for miles. The coliseum looks like a concrete UFO. Saucer-shaped, big enough to hold 14,000 beings, it appears to be merely parked there, waiting for a call from its home planet.
(A WVU alumni friend, whose devotion to the university's sports teams is fanatical, insists that the true atmosphere of the university is revealed on any given football Saturday, when its Mountaineer Stadium is filled with 60,000 people chanting "Let's go, Mountaineers" and the prize-winning marching band performs.)
When WVU began operating two separate campuses, it needed a way to connect them. It was too far to walk, the hills discouraged bicycling and shuttle buses had problems on the narrow streets.
So in 1975 planners created the Personal Rapid Transit system, which is essentially a horizontal elevator. You put 50 cents into the turnstile (WVU students use a "Mountaineer Card") (Editor Note: the PRT is FREE on game day) and select your station, just as you would choose a floor in a high-rise. You wait for a yellow, electric-powered, rubber-tired car about the size of a soccer mom's SUV to sidle up to the platform. And off you go, even though there's no driver at the wheel - and there's no wheel.
The PRT system runs about nine miles from the medical center through the old campus to downtown. Most of the passengers are WVU students and staff, but anyone may use the system."

West Virginia University Main Campus

Game Day Tailgating/Parking:

Like most big time programs the ability of visiting fans to park near the stadium is extremely limited. Unlike some other Big East programs tailgating is very common and fairly easy to do. The close in parking lots are the haven for the season pass holders and the well connected. If you arrive extra early, you should be able to purchase parking for a day at the "Green Lot". Some people like to park at the Green Lot and then wander over to the "Pit" or the Blue Lot for the vendors selling food. The "Pit" is an area most older visiting fans should stay clear from. Alcohol and testosterone rules there and common sense is lacking by most. If you tread there, you should remember you are outnumbered and to keep a sense of humor.

The Party in the Parking Lot
Using the "KISS" principle (Keep It Simple Stupid), I suggest first time visiting fans park in the free parking lots surrounding the Basketball Coliseum. It is located about ¾ miles away from Mountaineer Field and is an easy landmark for visitors to find. There are other free lots at the Evansdale Campus if you want a spot with better shade. The Coliseum/Evansdale Campus Shuttles run continuously, starting about two and one half hours before kickoff and of course run after the game. The roundtrip cost is $3.50. The University's sports website states, "Private Parking (not affiliated with WVU): is available for a fee at several locations along Patteson Drive, Van Voorhis Road, W.Va. Route 705, University Avenue, Don Nehlen Drive, Willowdale Road and other areas near the stadium." A very nice parking map is available in Adobe Acrobat "PDF" format. A whole host of game day rules and information is provided by the University (this is a very good web link for an overview).
A very good article about the West Virginia Game Day experience was written by a Washington Post reporter two seasons ago. Tailgating in its finest form is found in Morgantown, all Big East fans need to circle this game on their calendar to do. One last option is to park in downtown Morgantown and ride the PRT.

Mountaineer Field
LODGING:
Like most small towns it will be next to impossible to find a room if you look a week out. If you are a fan of historic, restored hotels Morgantown has the Clarion Hotel Morgan. It is within walking distance of the PRT. The Hampton Inn is very close to the stadium and might be a good option if you get lucky with a reservation. And a new 16 story Radisson Hotel has opened in the Wharf District downtown.  Your best resource is to use the local visitors' guide. Last resort if you strike out, try looking for some "Mom and Pop" Motels near Morgantown.
| | | |
| --- | --- | --- |
| | | |
| Clarion Hotel Morgan | Morgantown Hampton Inn | Radisson Hotel |
If you decide to travel to Morgantown at the last minute: first see if you can find any cancellations at the motels in Morgantown. If you strike out, you'll need to try outlying areas.
If you are traveling in from Pittsburgh and points north and east try these three cities: Washington, PA for motels, Waynesburg, PA for motels, and Uniontown, PA for motels.
If you are traveling from the south or west try these cities: Fairmont, WV for motels, Clarksburg/Bridgeport, WV for motels, and Wheeling, WV is another option for motels for those coming from the west as well as Washington and Waynesburg, WV.
DINING:
Almost all restaurants and pubs close to campus are going to be packed to the brim on a football weekend...so so enjoy the scene and have patience.
If you want to go somewhere not to far from the stadium that is a traditional haunt of WVU students/alums...I would suggest....Crockett's Lodge
The Boston Beanery II near intersection of Patteson Dr. and University Dr. has a varied menu, lots of fans and reasonable prices. Expect to have to wait to eat. Kegler's is a sports bar near the campus, Buffalo Wild Wings is known for their duh, wings,
For older readers who don't want to get caught in the hustle and bustle of the students...I would suggest Colasantes Ristorante & Pub ...this is a place is just west of Morgantown (in the city of Westover) and is very close to both I-79 and I-68

If you want a more upscale place....I would suggest Oliverio's Ristorante ....this establishment is located on the beautiful new wharf district in Morgantown overlooking the Monongahela River
Other restaurants can be found here. BTW, you can limit your searches on this website to various neighborhoods of Morgantown.
Things to Do:
If you happen upon Morgantown during the changing of the colors you need to checkout nearby Coopers Rock. It is the largest and most visited state forest in WV.

Copper's Rock
If you prefer to stay in town, the trolley is a great way to see Morgantown.
Whitewater rafting is great in West Virginia. If you are adventuresome, consider going on a river rafting tour on the New River or The Gauley.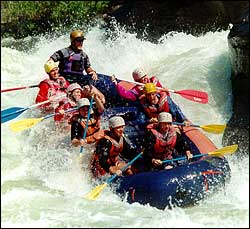 White Water Rafting on The Gauley
Morgantown is revitalizing an old area of their town into the "Wharf District". You can see the orientation of the Wharf District to downtown Morgantown here.
GOLF:
There are some great courses in West Virginia, including the Pete Dye Golf Club in Bridgeport (rated the top course in West Virginia and one of the top 100 golf courses in the US by Golf Digest) and the Greenbrier Resort in White Sulphur Springs. Note that neither is particularly close to Morgantown and both are very expensive.
| | |
| --- | --- |
| | |
| Pete Dye Club | The Greenbrier |
There are a number of golf courses the Morgantown Area. Here is a list. The Mountaineer Golf & Country Club is a public course for the golf challenged and/or budget minded. It is a short course that is relatively flat and inexpensive. You should be able to walk this course for less than $20, even on weekends.
Hope this helps. Thanks to Jackson1011 for helping me with the guide. TexanMark
The opinions expressed in this guide are those of TexanMark. While every effort has been made to ensure all the information presented is accurate and current, it would be wise to verify things when possible. Please note that this guide is not endorsed by Scout.com, its site publishers, administrators and/or moderators.